Friday, November 30th, 2007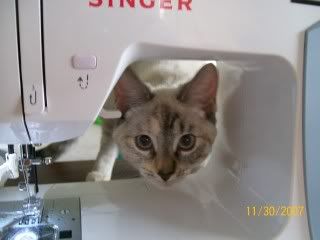 I have been getting up early with my oldest Micheal to help him get off to school
(He has to get up at 5:30 now in order to catch his bus on time but at the previous school he did not have to leave till 8:30 so he is still adjusting)
and have been staying up to get some work done before little David gets up around 9:00.
As usual i get all caught up in what i am doing and lose track of time (and everything else!)
So my little "Sugar Baby" came to visit letting me know that it was way past time for breakfast and could i please come now to feed them :) very sweet.

I still do not have a decent schedule down but am definitely going to sit down and plan one out this weekend!


I tried out a new "DOO" this morning on the Winter Maiden that i am working on, I think it turned out quite lovely. It was inspired by some earlier "doos" from the late 20's and early 30's. I am facinated by the the way women wore their hair back then ~ when women started going hatless and the fingerwaves were in ~ YUM ~ I would love to be able to wear my hair that way.
I hope to have her finished this weekend and can't wait to see how she develops.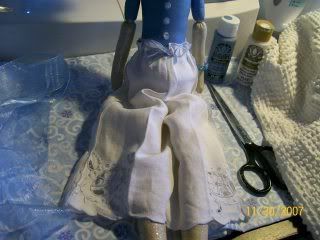 Here is the little pantaloons that i made for her this afternoon, they are made from some vintage linen hankies that i have in my stash. I love the details on vintage linens! Another "YUM" for me.
My stash is starting to dwindle so i will need to visit some of my favorite thrift stores soon, (wiggling in excitement!!) there are quite a few in this area and i used to only visit them when i was visiting with my Mum. Now I can just pop in whenever i need to and not feel bad about doing the multi task visit.
Anyways my little ones are clamouring for food and i need to get some necessities from the store , so off to shopping we will go!!